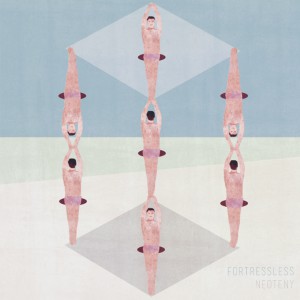 Release date: May 27, 2016
(EP, 2x 10″, digital)
buy on Itunes
order physical version
or write us an email
Fortressless assemble on their debut EP "Neoteny" a sonic landscape overrun with teeming bleeps, bloops and wobbly interference. Odd howls, likely to have originated from the imaginary compositions of the Douglas Adams universe, join in together with sardonical whispers of creatures descended from a Hieronymus Bosch painting.
Feisty mechanical ghosts jabber over subtle dance beats; their flow is of an idiosyncratic nature if present at all, their jargon some kind of pidgin-rap, a language correspondent to the bizarre conglomerate of sound layer over sound layer. Confines, contours and sources of distinct elements often times blur in this audible collage. Fortressless's skepticism towards pop culture and their ingenious taste allow the two-piece outfit a fresh and affectionate dealing with the richness of their sources, without falling prey to eclecticism. Searching for musical reference points, one may recognize the hip-hop of Anticon, post-rock of the late Talk Talk, the visionary pop of the Beta Band and Pet Shop Boys' fluffiness, all held together by the artistic empowerment of Fugazi.
The two artists, currently residing in Hamburg (Fabian Tormin) and Zurich (Christian Keller), write their elaborate songs not without wit. Although deeply admiring of the concept of minimalism, the two always seem to find themselves tangled up in the hot mess of what could be called a contemporary pop version of horror vacui.
What was initially conceptualized as a recounting of the epos of an interstellar quarrel between sheep and tigers, soon transformed into a testament of oddity – enchanting and poignant alike. Fortressless have not only been able to preserve the grotesque momentum of the original idea, but analogous to good science fiction, have translated it into a sound in which critical observation of the present teams up with artistic aptitude, savvy and faculty of abstraction to converge into a unique idea.