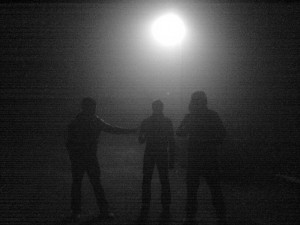 Fortressless assemble on their debut EP "Neoteny" a sonic landscape overrun with teeming bleeps, bloops and wobbly interference and write their elaborate songs not without wit. Although deeply admiring of the concept of minimalism, the two always seem to find themselves tangled up in the hot mess of what could be called a contemporary pop version of horror vacui.
Searching for musical reference points, one may recognize the hip-hop of Anticon, the visionary pop of the Beta Band and Pet Shop Boys' fluffiness, all held together by the artistic empowerment of Fugazi.
"Neoteny" was produced, mixed and mastered by the two multi-instrumentalists themselves and will be released on April 22, 2016 as a double-10" by the Hamburg-based record label Insular.
The EP contains edits and remixes by Serengeti, Clue to Kalo, Oval and many more.