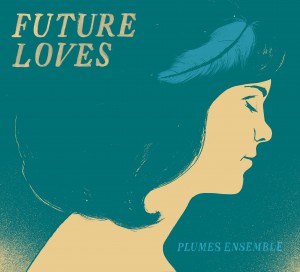 Release date: February 27, 2015
(digital)

The Future Loves EP is the digital release of the original songs from the 2014 CD Folk Songs and Future Loves (which combines Charnley's compositions with folk songs arranged by Luciano Berio and Béla Bartók). It was recorded at Mechanicland Studios, a converted chapel in northern Montréal, with all songs arranged and conducted by the ensemble's resident classical composer Geof Holbrook. Guest performers are Phil Hornsey (percussionist with Sixtrum and Ensemble Contemporain de Montréal) and guitarist Saam Hashemi, who also produced the record.
These songs include the haunting "Frappé", in which a lover is personified as the ice providing relief from hot Montreal summers, and the official chamber music reprise of "Away from Home," Charnley's original composition from Plumes' pop debut, about trying to find a sense of stability in a transient life. "Early Bird," composed on scales inspired by gamelan music draws lyrically on Aesop's fable "The Young Man and the Swallow" as well as the themes of "false springs" and fleeting romances that initially seem like they might be more enduring than they turn out to be. The EP closes with "Oh Orwell," a piano-driven, art song-esque original inspired by Orwell's "Down and Out in Paris and London" and Charnley's observation of homelessness in Paris.