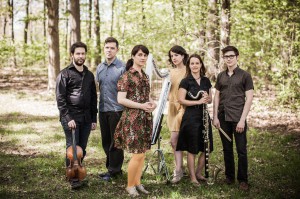 Audacious chamber musicians from Montreal have joined forces with the indie-pop duo Plumes to form a spin-off group called Plumes Ensemble, which is helping to define the new hybrid genre of "indie-classical". Amplified orchestral instruments accompany the innovative songwriting of Veronica Charnley, with punctuations of electric guitar, keyboards and percussion provided by arranger and multi-instrumentalist Geof Holbrook.
Plumes formed out of the ashes of the rock group Flotilla, releasing a self-titled debut album in 2012 to enthusiastic reviews (considered by Exclaim! magazine to be "worthy of album-of-the-year consideration"). For the 8-minute orchestral song Hero and Leander, found in the middle of that record amidst synth- and guitar-laden pop songs, the group assembled 35 classical musicians for a day in the studio. A few of them (harpist Eveline Grégoire-Rousseau, clarinetist Louise Campbell, violist Pemi Paull and cellist Andrea Stewart) refused to leave the studio when the session was finished, and so Plumes Ensemble was formed: an amplified chamber group that performs Charnley's original songs, some written specifically for the ensemble, and some drawn from Plumes but reimagined for a new instrumentation. They also shine a refreshing new light on 20th century classical repertoire, performing songs by composers such as Debussy, Bartok, Satie, Berio and Arvo Pärt.
The ensemble has made high-profile appearances at chamber music festivals and concert series in Canada, and is now embarking on a 10-show tour of Germany and France in April 2015 to support their Future Loves EP. They were recently presented by the Innovations en Concert series in Montreal, performing their original songs as well as folk songs arranged by 20th century classical composers Luciano Berio and Béla Bartók. Shortly before the tour in Europe they will be a featured performer in the Cluster New Music and Integrated Arts Festival in Winnipeg, Canada.